Welcome to

Texas Auto Recyclers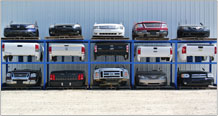 We are a family owned and operated business established in 1968. Since our start, we have expanded to 4 salvage yards allowing us to offer a vast and diverse selection of inventory including Ford, Chrysler and General Motors parts as well as foreign and late model American parts updated on a daily basis. We pride ourselves on quality service and work to establish long term relationships. Our employees have over 150 combined years of knowledge and experience in the industry.
All 4 locations are situated within a 1 mile strip on Jefferson Blvd. in Grand Prairie and span over 45 acres stocked with parts. Between the 4 stores there should be no problem finding a usable recycled auto part to fit any application. CONTACT US TODAY! Click on the parts request link, search our inventory and give us a call.
The great dividing line between success and failure can be expressed in five words:
"I did not have time"